I thought creams were all the same until my beloved holy grail, Holika Holika Good Cera Super Ceramide Cream*, came along. I know, spoiler alert!
I enjoyed this cream so much that I decided to buy the Holika Holika Good Cera Super Ceramide Mist, which is quite okay (later edit).
As the story goes, I was preparing for winter, so I went hunting for a heavy ceramide cream. It's not the cheapest, but it had a few good reviews on r/asianbeauty, so I decided it was worth the splurge. The two fl oz goes a long way.
Holika Holika Good Cera Super Ceramide Cream is a super hydrating, ceramides-infused, K-Beauty god-sent cream by the Holika Holika skincare brand.
Holika Holika Good Cera Super Ceramide Cream Review:
Where to Buy the Holika Holika Good Cera Super Ceramide Cream?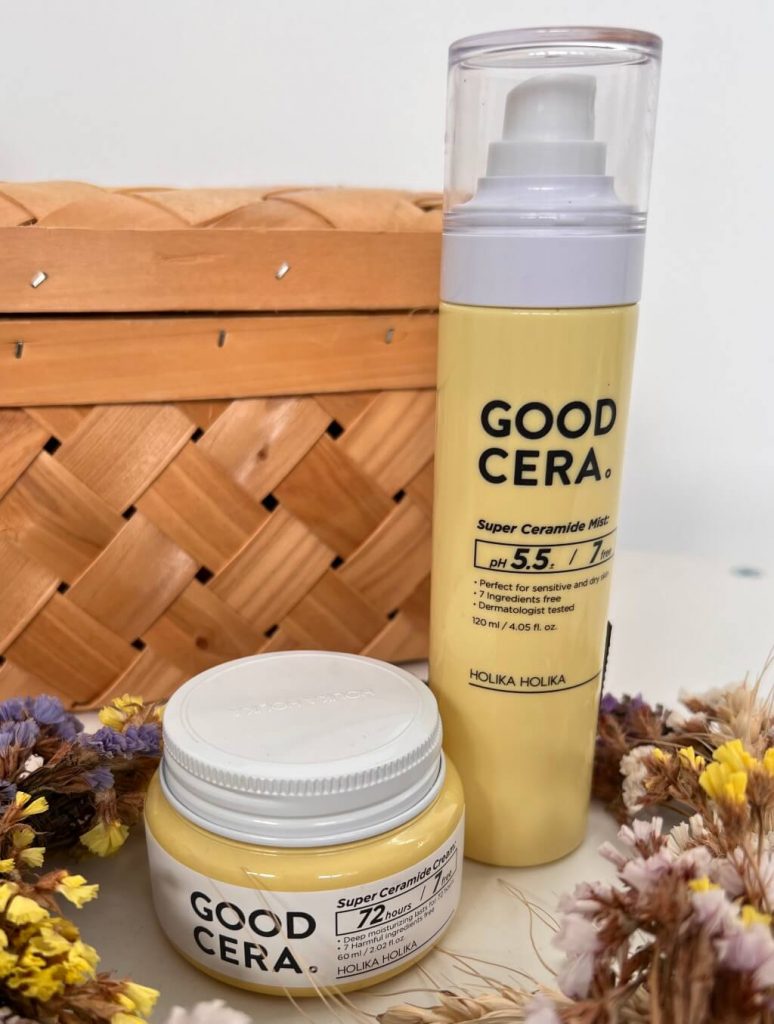 The average price in Asian boutiques is between $15-$21. The price per 100 ml is around 26$.
Shop Holika Holika Good Cera Super Ceramide Cream on Amazon*, StyleKorean*, Stylevana*, YesStyle*. (*affiliate links)
The Holika Holika Brand
Holika Holika is a Korean skincare brand retailer established in 2010.
Holika Holika's name and brand concept come from the word holida which means temptation in Korean, and the English suffix holic, which refers to addiction.
The innovative skincare brand aims to care for a woman's skin to remain as healthy and young as in her twenties with high-quality products made with the finest ingredients.
Holika Holika Good Cera Super Ceramide Cream Claims
This moisturizing cream with ceramides perfectly moisturizes the skin and helps restore its protective properties, making it more elastic and tender.

It promotes instant nutrition of deep layers of skin, restores skin-fat balance, and saturates with vitamins and minerals.

The cream neutralizes painful reactions: irritation, burning, tingling, and redness.

The formula of the cream is designed specifically for intensive nutrition of dry skin in the cold season.

With a pH of 5.5, the product maintains the optimal level of moisture in the skin and preserves a healthy protective barrier.

Holika Holika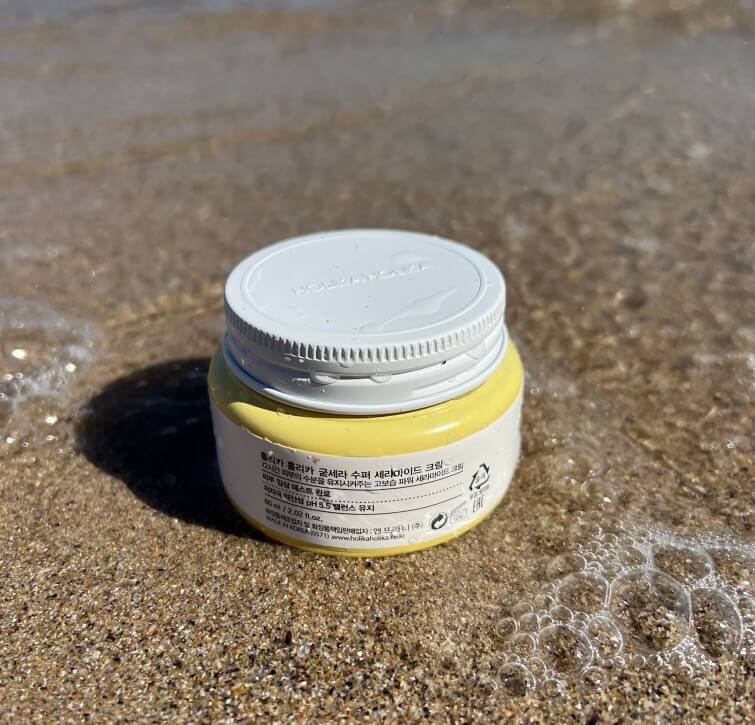 Holika Holika Good Cera Super Ceramide Cream Ingredients
Water, Butylene Glycol, Glycerin, Cyclopentasiloxane, Butylene Glycol Dicaprylate/​Dicaprate, Ethylhexyl Isononanoate, Hydrogenated Polyisobutene, Glyceryl Stearate, 1,2-Hexanediol, Cetearyl Alcohol, Stearic Acid, Polysorbate 60, Polyglyceryl-3 Methylglucose Distearate, Pentaerythrityl Tetraethylhexanoate, Stearyl Behenate, Dimethicone, Dimethicone/​Vinyl Dimethicone Crosspolymer, Cetearyl Glucoside, Phytosteryl/​ Isostearyl/​ Cetyl/​ Stearyl/​Behenyl Dimer Dilinoleate, Ceramide Np, Hydrogenated Polydecene, Butyrospermum Parkii (Shea) Butter, Ceteareth-20, Glyceryl Citrate/​Lactate/​Linoleate/​Oleate, Hydroxypropyl Bispalmitamide Mea, Glycosphingolipids, Ceramide Ap, Meadowfoam Estolide, Glycine Soja (Soybean) Sterols, Caprylic/​Capric Triglyceride, Ceramide Eop, Glyceryl Polymethacrylate, Aleuritic Acid, Yeast Extract, Glycoproteins, Betaine, Sodium Hyaluronate, Polyquaternium-51, Cocos Nucifera Oil (Coconut Oil), Aloe Barbadensis Leaf Extract, Hydroxyethyl Acrylate/​Sodium Acryloyldimethyl Taurate Copolymer, Squalane, Carbomer, Tromethamine, Tocopheryl Acetate, Glycerylamidoethyl Methacrylate/​Stearyl Methacrylate Copolymer, Alteromonas Ferment Extract, Bacillus Ferment, Propylene Glycol, Theobroma Cacao (Cocoa) Seed Extract, Dipropylene Glycol, Lavandula Angustifolia (Lavender) Oil, Citrus Grandis (Grapefruit) Peel Oil, Cymbopogon Citratus Leaf Oil, Pelargonium Graveolens Oil, Citrus Aurantium Dulcis (Orange) Peel Oil, Pogostemon Cablin Oil, Santalum Album (Sandalwood) Oil, Chamomilla Recutita (Matricaria) Flower Oil, Niacinamide, Allantoin, Disodium Edta, Ethylhexylglycerin.
Ingredients referred from YesStyle*.
Humectant/Moisturizing Ferment Active Fragrance
Key Ingredients Explained
Ceramides
Let's focus on the star here, ceramide. It's in the name. Ceramides are a family of lipids that account for 50% of the skin barrier (by weight), so they're essential, right? Ceramides are crucial to:
maintain the skin's moisture levels;
protect skin from external irritants, making skin more resilient;
help make skin more plump, juicy, radiant, and smooth;
makes skin tolerate chemical exfoliation much better;
skin is less likely to become irritated;
because they prevent dehydration, ceramides are a great anti-aging ingredient;
regulate the cell cycle and apoptosis (regulated cell death);
beneficial for all skin types.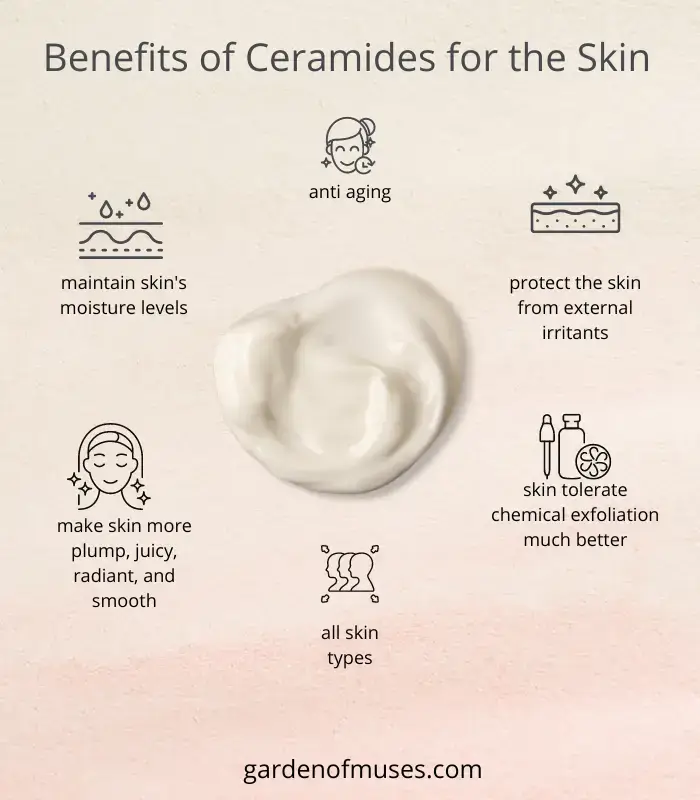 Heralded as skincare heroes, ceramides can now be found in cleansers, toners, serums, masks, moisturizers, and even hand creams.
Ceramides are golden children; they get along with everyone (unlike vitamin C and A, those brats). They go exceptionally well with plant oils rich in linoleic acid and cholesterol.
Sandalwood Seed Oil
Sandalwood seed oil is a rich source of an extremely rare, natural, and highly stable fatty acid called Ximenynic Acid, with known anti-aging properties.
Niacinamide
Niacinamide has been making a splash in the Western market over the last few years and has been splashing in Asian skincare for decades. This beauty powerhouse is the topical form of vitamin B3.
Several well-documented studies show that when used topically, niacinamide can:
Long story short, niacinamide does everything, and the good news is that it is well-tolerated by most skin types. To learn more, please read our Complete Guide on Niacinamide and How to Reduce Hyperpigmentation with Niacinamide.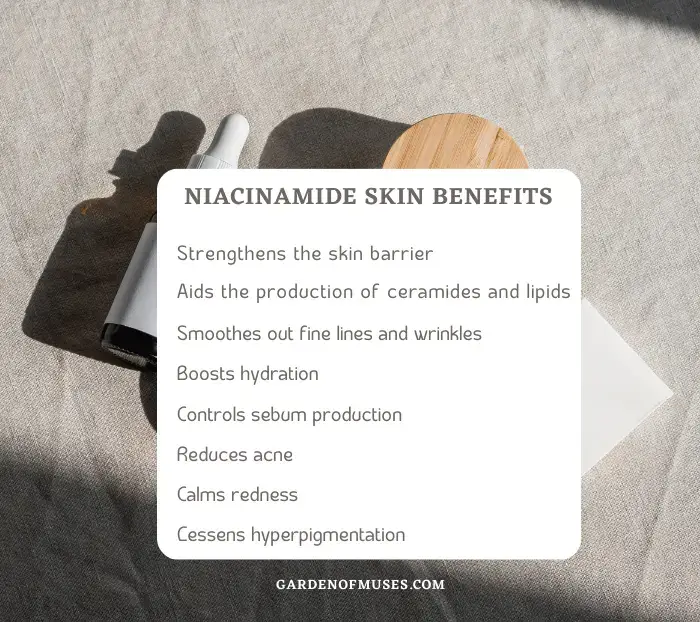 Ferments
Dr. Shereene Idriss, MD, a New York City-based board-certified dermatologist, founder of Idriss Dermatology, and creator of the PillowtalkDerm skincare brand, says fermented ingredients are good for your skin because of three main reasons. Fermentation:
"increases the potency of the active ingredient by utilizing the yeast, and through the fermentation process, that yeast secretes enzymes which make the active ingredient much more potent."
"enhances penetration of the active ingredient because, through fermentation, the ingredient gets broken down into smaller sizes. The smaller the size of the active ingredient, the better it can penetrate deep into your skin."
"increases the preservation of the active ingredient, because through fermentation a metabolite is created that prevents the growth of unwanted bacteria, therefore preserving the life of your product over time and making it safer for you to use."
Ingredients not included in Holika Holika Good Cera Super Ceramide Cream:
Good Cera is 7 Harmful ingredients free, meaning it has no artificial colors, synthetic fragrance, mineral oil, Triethanolamine, Talx, Petrolatum, or Benzophenone.
Packaging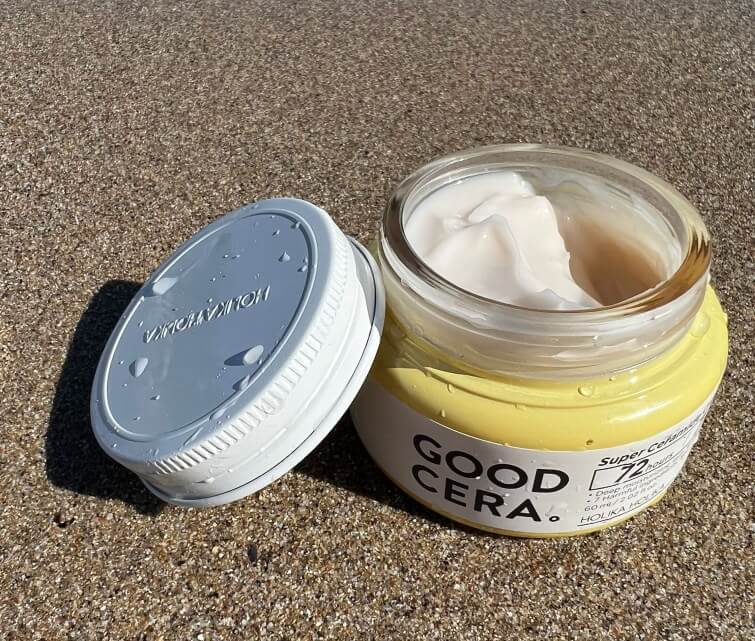 The 60 ml moisturizer comes in a sturdy plastic squat jar with Good Cera's signature branding. I was surprised by the heavy jar when I got this in the mail, but I like the yellow packaging. Lovely, bright, and clean!
Holika Holika Good Cera Cream does not come with a spatula.
The product probably has suitable preservatives, so I try not to sweat the small stuff and use it as provided. But if you're worried about the cream going bad or as I've seen people being bothered by getting cream under their nails, you can "borrow" the spatula from another cream.
If you still prefer using your fingers but want to be more sanitary, you can try the following trick I learned on the internet:
Sanitize a spatula and fill a smaller, sanitized container with the product. Then, you can use your fingers with the smaller container. Because it's smaller and gets used up within a month, you don't have to worry about it getting contaminated. Also, if it goes bad from some contaminants from your hands, it's less product wasted.
Smell
Holika Holika Good Cera Cream has a citrusy smell. The scent is quite faint, however, and disappears after a minute or two. Those who are wary about scent may need to sample this before purchasing. 
Texture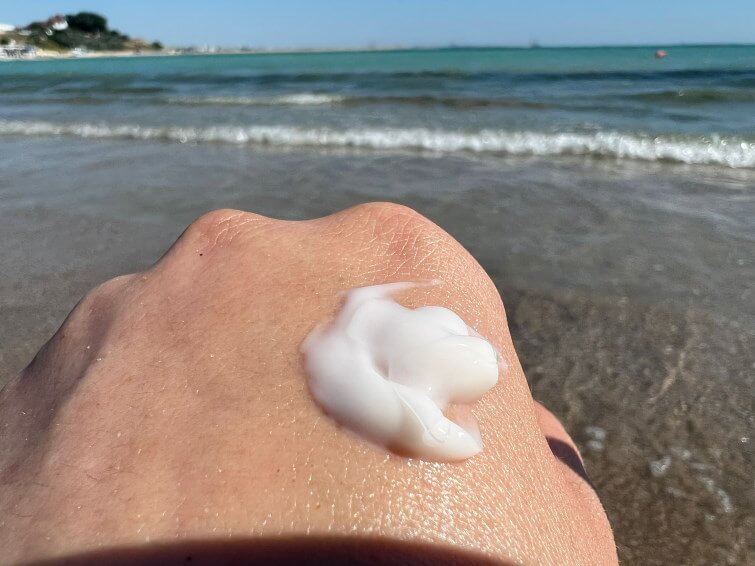 Holika Holika Good Cera Super Ceramide Cream feels excellent: its texture is smooth, creamy, and soothing. It's a pleasure reminiscing about thick vanilla pudding.
This product is milky white, and the color clears right after application. It melts, which I love.
My Experience with Holika Holika Good Cera Super Ceramide Cream
My skin type and concerns
I have a normal – dry skin type, and I live in a temperate continental climate with cold & dry winters and hot &dry summers.
Honestly, I am beyond happy with Good Cera! I struggled my whole adult life to find a good moisturizer 😅
How long have I used it: I am on my second jar. I used up the first jar during the harsh cold months. Holika Holika Good Cera Super Ceramide Cream lasts three months when used twice daily.
Now, during the summer, I haven't been reaching for it daily.
How to use Holika Holika Good Cera Super Ceramide Cream?
First Cleanse and second cleanse if it's the case;
I've been loving adding Numbuzin No.3 Super Glowing Essence Toner to my routine;
Apply serum;
I grab some cream from the jar. 

I know some of you will cringe because it is unhygienic, but honestly, nowadays, I have very little time.

I spread the cream on my face, including the eyes and lips.

I also put a decent amount on my neck and my cleavage.
I apply Holika Holika Good Cera Super Ceramide twice daily during dry and cold months.
During summer, I sometimes feel that hydrating sunscreen is enough for the mornings. At night, even on hot and humid nights, the cream absorbs beautifully and doesn't pill.
Routine
So, this comes after everything else in my arsenal. Wash my face, double cleanse if you may, do my toner, essence, serums, ampoules, oils, and emollients, and now comes the cream.
It feels lovely and luxurious on my face and has worked beautifully over my Stratia Liquid Gold to keep my skin happy, healthy, and, shockingly, plump.
The cream is thick, but too thick is my jam! It spreads in quickly and sinks in, leaving my skin soft and soft. My skin afterward tends to feel still clean but moisturized, and if there is a remaining feeling of lotion, it's very comforting and pleasant. I don't think it lives up to the "72-hour" claim, but the feeling persisted until about 14 hours.

After that comes the easiest step of all: go to sleep! When I wake up, I'm left with plump, soft, refreshed skin.

I find that sometimes, with moisturizers, I do need to be careful with what I layer underneath, especially in the mornings. However, due to the formulation of the Holika Holika Good Cera Super Ceramide Cream, I find this glides so well after using the rest of my routine, and it doesn't 'ball up' or leave that furry feeling on the skin. Still, it also works well with other serums and other products underneath.
After using this moisturizer, my skin looks well-hydrated, fresh, and calm. I am ready to take on the first part of my makeup routine for the rest of the day. Holika Holika Good Cera Super Ceramide Cream leaves a flawless canvas for make-up to work with after application. 
I recommend this for every skin type, but it's perfect for dry-sensitive skin. I also appreciate that it hydrates the eye area but doesn't sting the eyes.
I expected a regular moisturizer and got a rock star holy grail!
Pros
Hydrating
Occlusive
No fragrance
Cons
On the pricey side
The unhygienic jar might bother some
Not travel friendly
Final Thoughts
I found that I really enjoyed using this and would often reach out to use it in my morning routines as the finish it gives my skin a beautiful natural silky skin finish that is fresh, hydrated, and radiant looking. The Holika Holika Good Cera Super Ceramide Cream also sits incredibly well over other harder-to-layer products (such as facial oils) and works like a dream underneath makeup. The texture, results, and finish this moisturizer gives are lovely, and I will repurchase it in the future. 
I have to say it: Good Cera, good.
I am looking forward to starting tretinoin soon after I stop breastfeeding. I have done my homework and know everything there is to know before I start tretinoin. I trust Holika Holika Good Cera Super Ceramide Cream to fight the tret uglies.
Will I Repurchase the Good Cera Super Ceramide Cream?
I enjoy this product and will almost certainly repurchase it and use it twice daily.
Rating: 5/5
Holika Holika Good Cera Super Ceramide Cream vs Dr. Jart+'s Ceramidin Cream
Holika Holika Good Cera* has been fantastic for me. I was using Dr. Jart+'s Ceramidin Cream, which wasn't enough for my skin, so I tried Holika Holika as a dupe and fell head over heels. It just makes my skin so happy and healthy.
Holika Holika Good Cera Super Ceramide Cream vs Beauty of Joseon Dynasty Cream
I have recently tried the Beauty of Joseon Dynasty Cream and found it "feels" similar to the Good Cera.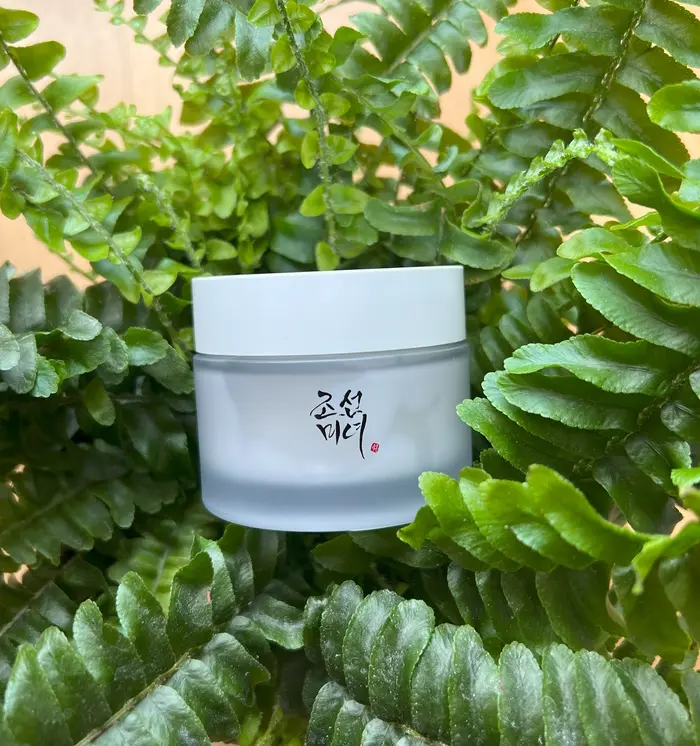 Shop for this product
Shop Holika Holika Good Cera Super Ceramide Cream on Amazon*, StyleKorean*, Stylevana, YesStyle*, Beauty Bay. (*affiliate links)
Shop the Good Cera line
Holika Holika Good Cera Super Ceramide Mist*- Full Review
Holika Holika Good Cera Super Ceramide Toner*
Holika Holika Good Cera Super Ceramide Cream in Serum*
Holika Holika Good Cera Super Ceramide Emulsion*
Holika Holika Good Cera Super Ceramide Essential Oil*
Holika Holika Good Cera Super Ceramide Foaming Wash*
Holika Holika Good Cera Super Ceramide Moisture Balm*
(*affiliate links)
Besides the Ceramides mist, I haven't anything yet, but they're all moving to my cart now😋
Lastly, I was not paid for this review or received it as a gift.
As always, you do you; be kind to your skin and yourself! Remember that every person's skin and skin type is different, so what might work for me might not work for you, and vice versa. So, before adding a new product to your skincare routine, it pays to do a little research first.
Before adding the Holika Holika Good Cera Super Ceramide Cream to your skincare regimen, ensure you are not allergic to it or its ingredients. You should also consult your doctor if you are pregnant, breastfeeding, or have any medical conditions or medications that may interact with the Holika Holika Good Cera Super Ceramide Cream. Always do a patch test before applying the Holika Holika Good Cera Super Ceramide Cream on your skin to avoid adverse reactions.
I am not a dermatologist or licensed aesthetician, but I have sufficient experience and knowledge I gained by testing multiple products and self-exploration. Unsure? Best to consult your dermatologist.
Happy shopping, and don't forget the sunscreen! Here's to great skin in 2023!
Show Me Proof