Sometimes, I feel like a salty old sea dog when trying new beauty products. So once in a great while, something new comes along, and I'm like, "How have I missed this?". It's been a long time since that happened, but I was a little lost when I saw the Mary Kay Micellar Water on Amazon*. Mary Kay is a new brand for me right now.
Mary Kay Micellar Water Review
Where to Buy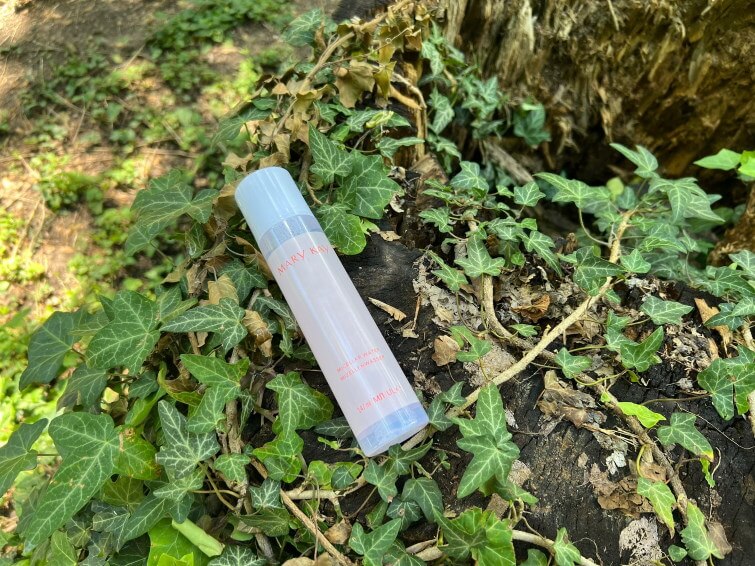 The Mary Kay Brand
Mary Kay is an iconic brand that was not built in a day. For more than 50 years, Mary Kay has been the type of business that empowers women while changing the world of business.
Mary Kay is a company that works for women. It centers on highlighting the importance of preventing domestic violence and sexual assault.
Mary Kay Ash is the iconic woman who changed the world of business by creating more opportunities for women, building a company guided by her values, and empowering women by putting them in control of their futures.
This is an excellent time to mention that I was not paid for this review, nor did I receive it as a gift. Moreover, at the time of purchase, I was unaware that Mary Kay was a choose-your-beauty-independent-consultant type of business. I'm not trying to visit your home to sell you Mary Kay products.

What is Mary Kay Micellar Water?
I guess I should start with what micellar water even is! I wasn't entirely sure myself, so I reached out to good ol' Google for some illumination on the subject and found out that micellar water is a gentle face cleanser and makeup remover containing micelles. Micelles are little soapy bits that do what soap does: cleanse and remove oil. There's a long and scientific explanation for this, but I don't want to bore you. You can read more about the science behind micelles and micellar water if you wish.
So essentially, micellar water is soapy water, but not just any soapy water. It is specifically created to be effective enough to remove dirt and oils but mild enough not to require rinsing.
Ahhh! I've got it now!
Also, from the Mary Kay website is this description:
Micelles act like magnets to draw out impurities away from the skin, so you're left with a clean feeling whether or not you're near a sink.

Remove makeup and other impurities with this micellar water — a formula that gently yet effectively cleanses.

Whether you're facing a hectic morning or need a quick freshening up, you can remove impurities with just a few quick swipes of a cotton pad — meaning there's absolutely no excuse for not cleansing your skin.

When you need to take cleansing a step further, reach for this micellar water as the first step in your double-cleansing routine. Now you can take a portable and versatile approach to cleansing your skin even when you don't have water nearby!.
So essentially, micellar water is like a makeup remover, only it contains skin-beneficial ingredients and doesn't need to be washed away afterward unless you want to follow up as part of your double cleansing routine. Micellar water is NOT a toner. For further information on micellar water, see this post.
Mary Kay Micellar Water Ingredients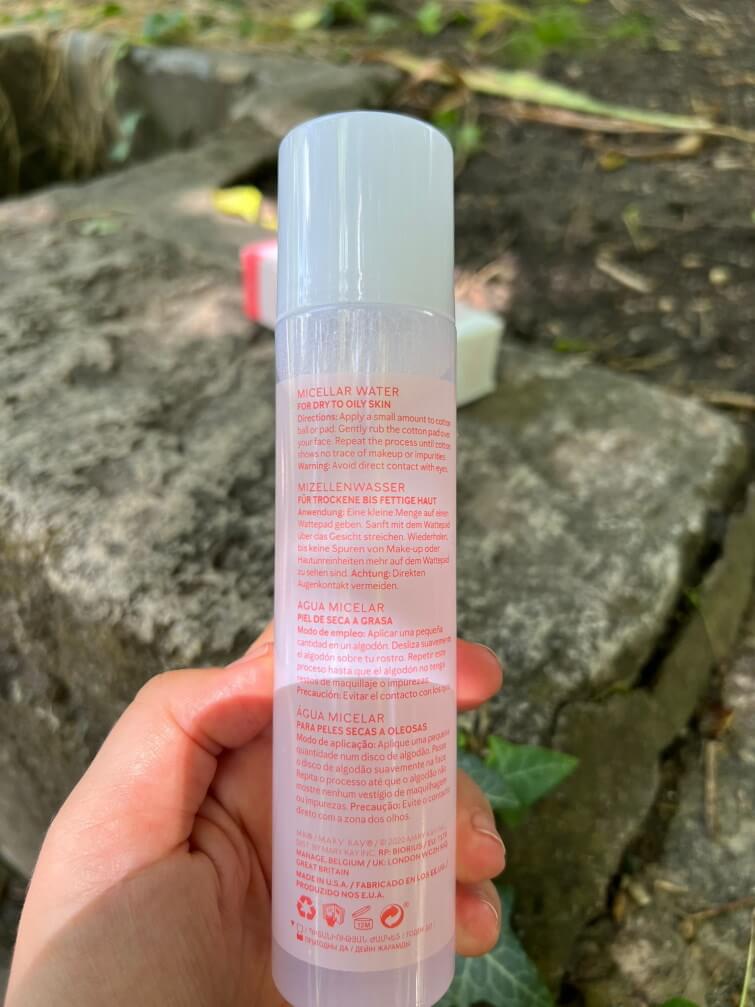 Water/​Eau, Poloxamer 184, Glycerin, PEG-8 Dimethicone, Disodium Cocoamphodiacetate, Pentylene Glycol, Propanediol, Hydroxyacetophenone, Caprylyl Glycol, Citric Acid, Disodium EDTA, Ethylhexylglycerin
It has cleansing and hydrating ingredients, and most importantly, the Mary Kay Micellar Water does not contain alcohol.
Packaging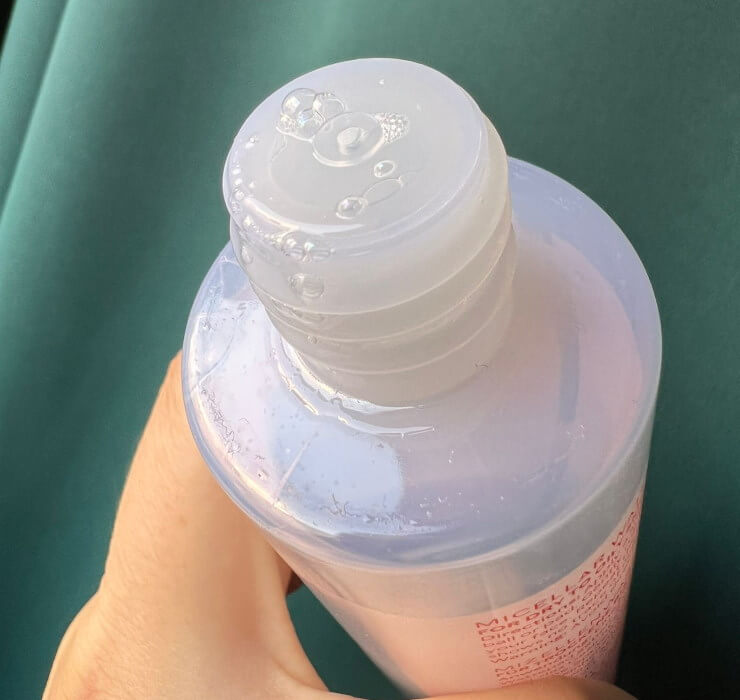 It comes in a regular 5 fl. oz. pink plastic bottle with a screwable cap. Like other micellar waters, it is cost-effective and will probably last a long time.
I've been using it for a month, morning and night, and have barely made a dent.
Smell
The smell is really lovely. It's a beautifully subtle floral scent, really reminiscent of a carnation. If it were more robust, I could wear it around my neck as perfume, haha.
My experience with Mary Kay Micellar Water
Some context: it's summertime here, and it is hot and humid. My skin is normal and in pretty good shape (usually dry during the winter). I was simply out of micellar water and looking to replace it.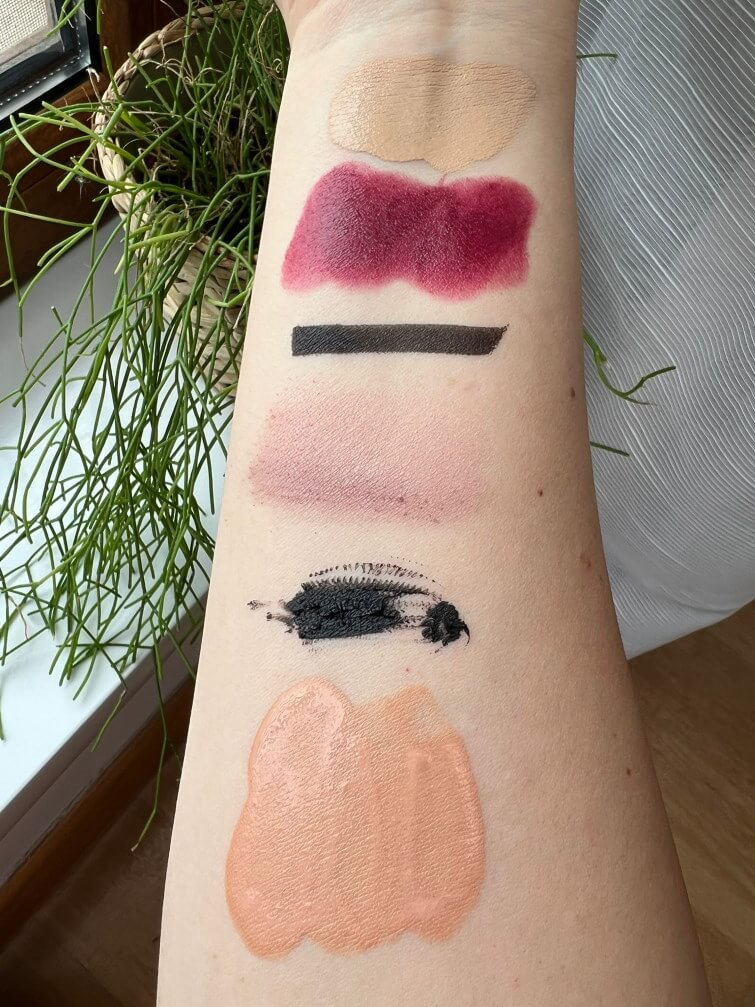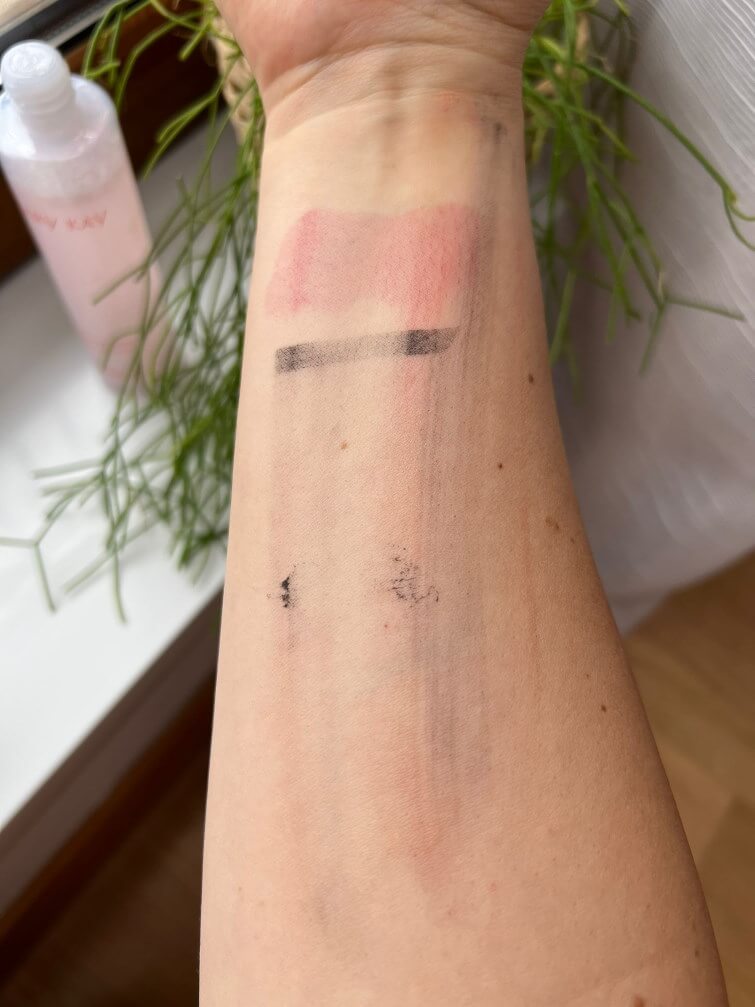 I've been using it for a month, and this Mary Kay Micellar Water, in particular, is, in short, gorgeous. It smells lovely; it works stunningly; it just is gorgeous.

It does a great job of removing point makeup. I've swatched Sephora Foundation, Peripera Wholly Deep Jewel Pot, Tonymoly Backstage Gel Liner, 3 Concept Eyes Eyeshadow Palette shadow, and La Roche Posay Anthelios Tinted SPF on my arm, which are all tough customers when it comes to tenacity and pigmentation.

And here's what happened after one very light pass with the cotton ball and then a more thorough cleansing. As you can see, it removed most of the makeup and deposited it onto the cotton pad!
How do I apply Mary Kay Micellar Water?
Mary Kay Micellar Water directions:
Soak a cotton pad with Mary Kay® Micellar Water and gently swipe, covering your entire face while avoiding direct contact with your eyes. That's all! No need to rinse with water.
Here's a good moment to add that I haven't followed the directions and used it on my eyes. Although it is not an eye makeup remover, it did not sting my eyes. I repeat, it does not sting! This is amazing because I don't have the time to use another product for my eyes, and I love to wipe my whole face quickly.
My skin felt oil-free but not dry. This will not mattify your face as a primer would; it will leave your face feeling like you washed it with a regular, non-hydrating cleanser; your face will feel and look completely oil-free.
And while this is positioned as a makeup remover, I like using this first thing in the morning instead of a face wash with water.
Instead of using my foaming cleanser, I sweep this across my face. It's crazy refreshing and does a great job preparing my skin for the rest of my routine.
Used in the traditional makeup remover way, this does an excellent job of removing point makeup. It even removes my Tonymoly gel liner! However, removing waterproof Western mascara doesn't do well, so if you're using this as part of a double cleanse, you'll have to follow up with an oil cleanser to obliterate the waterproof mascara.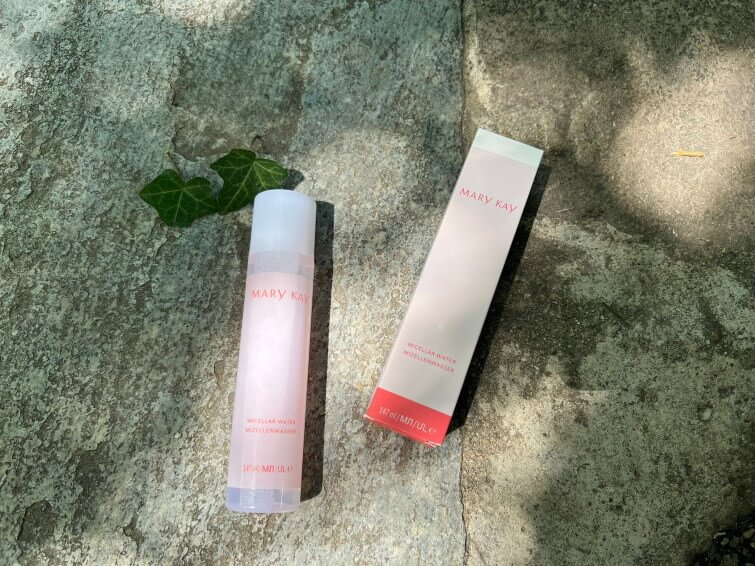 I wouldn't recommend completely replacing your oil cleanser with this anyway; as handy and revolutionary as it is, your face still needs a deeply thorough sunscreen removal. I wouldn't trust that to anything but an oil cleanser!

That being said, there is room for this in your routine; it's an excellent product for correcting any accidental "oops" you might have done with your makeup, for refreshing your skin on a bad day (hello, hot yoga! I'm going to get another bottle of this strictly for my gym bag!), and for a gentle water-free morning cleanse.
Mary Kay has me believing they can do no wrong; this is an excellent product, and coming in at under $20, it won't break the bank either!  I haven't even seen it on Sephora or eBay yet, so as far as I know, it's only available on the Mary Kay Website.
Is it vegan and cruelty-free?
Unfortunately, no. The Mary Kay brand is neither vegan nor cruelty-free.
Verdict
Probably not suitable for dry, aging skin during the winter. I haven't tested it yet during the winter, but I don't think it will suit my skin type during the cold.
I enjoy this product and am almost certainly going to repurchase it. Five out of five refreshed, plump-skinned, smelling like they're straight from heaven stars!
Where to buy?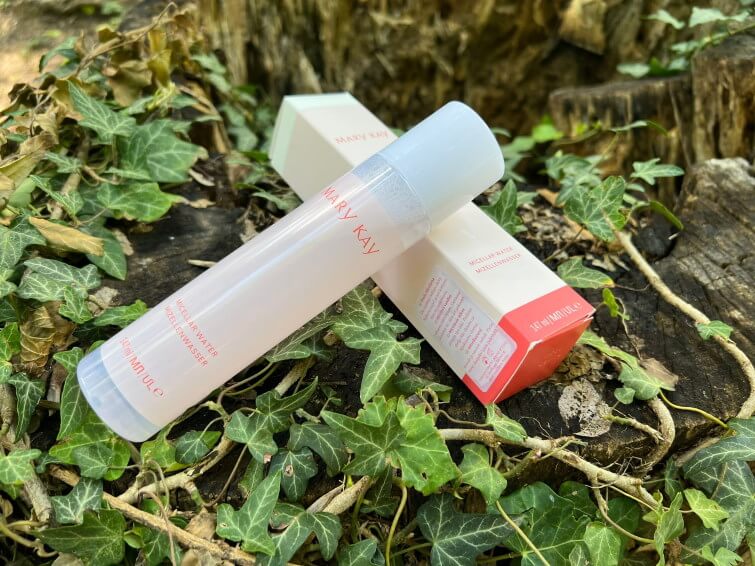 Pros
Does its job;
Smells nice;
Cons
Lastly, I was not paid for this review or received it as a gift.
As always, you do you; be kind to your skin and yourself! Remember that every person's skin and skin type is different, so what might work for me might not work for you, and vice versa. So, before adding a new product to your skincare routine, it pays to do a little research first.
Before adding the Mary Kay Micellar Water to your skincare regimen, ensure you are not allergic to it or its ingredients. You should also consult your doctor if you are pregnant, breastfeeding, or have any medical conditions or medications that may interact with the Mary Kay Micellar Water. Always do a patch test before applying the Mary Kay Micellar Water on your skin to avoid adverse reactions.
I am not a dermatologist or licensed aesthetician, but I have sufficient experience and knowledge I gained by testing multiple products and self-exploration. Unsure? Best to consult your dermatologist.
Happy shopping, and don't forget the sunscreen! Here's to great skin in 2023!